September 26, 2017 6:16 pm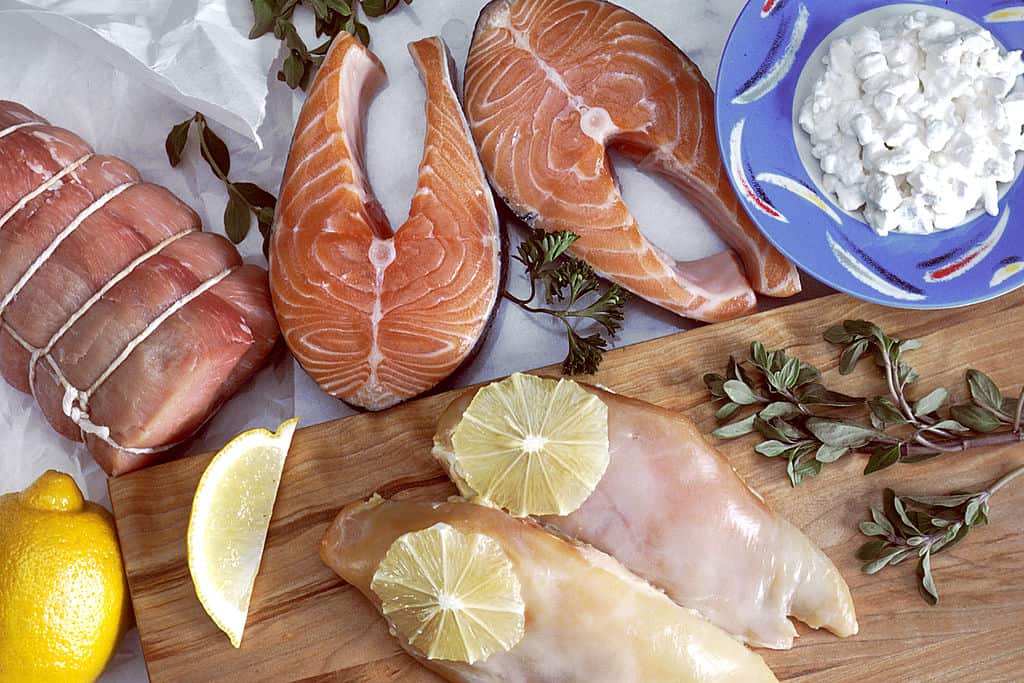 Whether you want to build "long, lean, toned" muscles or "big and bulky muscles", you'll need to know one thing…
They're all basically the same.
They're all built by protein.
Aaaannd, I betcha 10 bucks you aren't eating enough protein for your fat-loss goals right now.
What the heck is protein, you ask?
I'm so glad you asked! Let's chat about that.
In this post I'll cover everything you need to know about:
1. why protein is important for you,
2. what the best sources are, and
3. how to make sure you're eating the right amounts without driving yourself crazy.
Cool?
Cool. Let's get started
Why Protein?
Let's say you decide to start exercising to lose weight.
You've read that strength training is important so you start strength training 3 times a week and do some running an additional 2 or 3 times a week.
You're off to a great start.
You make a few changes to your diet. You start eating more vegetables, eating lots of whole grains and you cut out red meat.
After a couple of months, you notice not much has changed. You lost a few pounds but your body doesn't have any more shape than it used to and you aren't getting any stronger in the gym. And what's worse, you're sore all the time! It's really annoying.
We see this happen all the time.
Very often, it's because you aren't eating enough protein.
If you haven't made an effort to bump up your protein intake, you've basically been shooting yourself in the foot. You're working hard in the gym but you aren't supporting that hard work with your nutrition.
See, every time you exercise, you're stressing your muscles. After working out, your muscles are crying out for more protein so they can re-build just a little bit bigger and stronger and that's what gives your body the shape you're looking for. But you're ignoring their pleas for protein and just going about your day, sad and unchanged.
Protein is a very hot topic right now. I'm not gonna pretend you haven't heard something about it. Everywhere you look it seems someone is telling you either you aren't eating enough protein and you'll wither away and die OR that you're eating way too much and your kidneys will explode!
What gives?
The fact is, if you eat a fairly typical Western diet, the chances of you being protein deficient are about the same as the chances of a goat learning to speak English! Pretty slim.
So why do fat-loss gurus and health & fitness gurus natter on about protein?
Because we want more than just "not being deficient."
That's like an athlete just trying to "not be the worst." We don't care about a race to the bottom here.
We care about getting fitter – losing weight, getting leaner, toning up, getting stronger, and getting healthier.
And in order to do that, we're going to need a bit more protein.
But before we dive into that, what exactly IS protein?
What Is This Protein Stuff?
Protein is made of amino acids which are the building blocks of our:
Muscles
Akin
Organs
Soft tissue
Hair and nails
Hell, protein even helps make your bones stronger.
So we need a bunch of it. Not just for fat loss and strength but for healthy bodily function.
In addition to that, protein is one of the most difficult types of food for our bodies to break down. And that means protein helps you to:
Increase your metabolism: just eating protein increases your metabolism since your body has to work harder to break it down
Feel full and satisfied: since protein takes longer to move through your digestive tract, you'll feel full for longer after your meals. Good bye munchies and hunger pangs!
In short, it's good stuff.
So hopefully you're pretty hyped about what protein does for you by now. But you may also be wondering…
Where the hell do I get it from?
Good thing that's what I was planning to talk about next or you might have totally ditched this blog post!
Where can I get me some protein?
There are lots of great sources of protein that you can eat every day to make sure you're getting that satiating, muscle building, metabolism revving goodness.
These are our favourites:
Lean meat such as beef, pork, or wild game
Poultry such as chicken, turkey, or duck
Fish & seafood such as shrimp or scallops
Eggs & egg whites
Cottage cheese or strained plain Greek yogurt
Protein powder such as whey, egg, vegetarian blends, etc.
Cooked lentils or beans
Tempeh or tofu
There are a heck of a lot more than that but that's a great place to start.
Now before you start washing down steaks with protein shakes and having a side of Greek yogurt for dessert, let's talk about how much you should be getting for fat loss.
How much protein do I need?
The official DRI (Dietary Reference Intake) for protein is 0.8 grams per kilogram of body weight. That means if you weigh 60kg (132lbs), you'd need about 48g of protein per day.
Again, that's how much you need to avoid being deficient.
On the other end of the spectrum, for an intensely training athlete, our friends at Precision Nutrition say protein needs can go up to as much as 1.4 – 2.0 grams per kilogram of body weight. So now, our 60kg person would be eating between 84 and 120g of protein per day.
Most of us land somewhere in the middle. We aren't olympic athletes so we don't need to hit the upper limit. But if you're training for fat loss, or muscle gain or any kind of fitness goal, you need more than just the minimum if you want to Thrive.
If you're the type who likes numbers, a very general rule of thumb I like to use is about 100g of protein a day for women and about 150g a day for men.
Again, that's very general and just serves as a starting point. Individual needs and metabolisms vary so you have to experiment.
Buuuuut… Counting "grams" of food and macronutrients and calories and so on is a big ol' pain in the butt and it's pretty inaccurate anyway. There's a much simpler way to make sure you're getting enough protein.
And you can do it anywhere, any time, with almost any food.
(NOTE: Discover the New Way to Control Food Portions – so easy…[Hint] It doesn't involve counting a single calorie [cool infographic inside]. Forget the "fitness fallacy" of counting calories forever! Learn more here.)
How to Eat Enough Protein Without Going Crazy!
If you find that you're training regularly, getting enough sleep, and eating fairly healthy but still not seeing changes in your body, there's a good chance you aren't eating enough protein.
Here's a simple solution to get more protein in every day without thinking too hard about it.
I want you to do this:
Hold out your right hand, palm turned up.
Take a good look at the palm of your hand.
That's your measuring tool for servings of protein-dense food.
The next time you sit down to a meal, try to get one (if you're a woman) or two (if you're a man) palm-sized servings of protein-dense food.
That means a total of 3-4 palms of protein a day for most women and 5-8 palms a day for most men. Remember, those include:
Lean meat such as beef, pork, or wild game
Poultry such as chicken, turkey, or duck
Fish & seafood such as shrimp or scallops
Eggs & egg whites
Cottage cheese or strained plain Greek yogurt
Protein powder such as whey, egg, vegetarian blends, etc.
Cooked lentils or beans
Tempeh or tofu
The cool thing is that any one of these protein sources can be prepared about a million and one ways so you're bound to find recipes you enjoy.
Now, here's my challenge to you:
For the next two weeks, make this your priority above everything else. Make it into a habit. You might not notice drastic changes in just two weeks but you'll be building one of the foundational habits of a healthy diet and, probably start to feel a bit better as well.
(NOTE: Discover the New Way to Control Food Portions – so easy…[Hint] It doesn't involve counting a single calorie [cool infographic inside]. Forget the "fitness fallacy" of counting calories forever! Learn more here.)